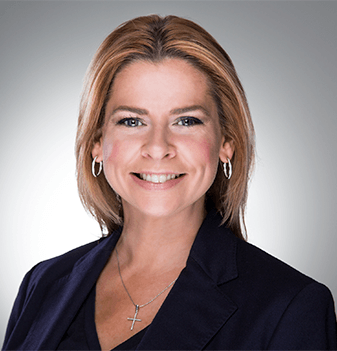 Founder and Co-CEO | The Lumistella Company
---
Christa Pitts (born June 23, 1974) is an American entrepreneur, co-CEO and former television personality. As one of the strategic business forces behind the family-owned entertainment and consumer products company—The Lumistella Company—it was Pitts and her family who first introduced the world to The Elf on the Shelf: A Christmas Tradition, an internationally acclaimed best-selling title. A former QVC program host, she is currently a managing owner and partner in Big Canoe Entertainment, as well as an owner and executive producer of The Lumistella Company's subsidiary production company: Scout Elf Productions™.
In 2005, Pitts' twin sister and mother, Chanda A. Bell and Carol Aebersold, co-authored the heartwarming Christmas tale The Elf on the Shelf: A Christmas Tradition, a folklore close to Pitts' heart. Since it was based on a tradition she grew up with, Pitts knew that the little elf storybook and Scout Elf from Santa Claus could change the way people celebrated Christmas forever. Pitts immediately recognized the project's business opportunity, so she left her high-profile position as a popular host on QVC to build the operational side of the business, including sourcing and production, sales, marketing and supply chain. Thus, the trio emptied bank accounts and took on credit card debt to co-found CCA and B, LLC in an effort to self-publish, market and distribute the storybook that traditional publishing houses had rejected.
Under Pitts' leadership, the company has grown tremendously from a fledging publishing start-up to an internationally recognized resource for children's holiday toys, traditions and entertainment. The company now boasts over 150 individual products under its parent company banner, and it has launched two globally recognized brands: The Elf on the Shelf® and Elf Pets®. As co-CEO, Pitts has had direct oversight of the move of the company and their product lines into international markets, including Canada, Mexico, the UK, Ireland, Japan, Australia, New Zealand, South Africa, Denmark, Norway, Sweden and Finland.
A highly sought-after speaker for events focused on business, entrepreneurship, sales and marketing, Pitts was named a finalist for Ernst and Young's Entrepreneur of the Year award and received the honor of being chosen as Georgia's Small Business Person of the Year by the Small Business Administration. She has appeared on numerous television shows such as Holiday Wars on the Food Network and The Today Show as well as the networks Bloomberg TV, MSNBC and CNN. In addition, Pitts has led the innovative company forward so that it repeatedly appears on Inc. magazine's list of the fastest growing private companies in the United States.
Pitts serves on the University of West Georgia Board of Trustees in Carrollton, Georgia, and is an active member of her community, supporting multiple causes that "give back."