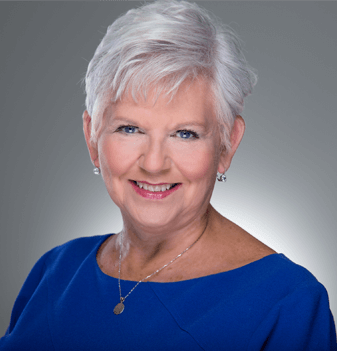 Founder | The Lumistella Company
Co-author of The Elf on the Shelf: A Christmas Tradition
---
Carol Aebersold is an award-winning writer, motivational speaker and entrepreneur who is best known as the co-author of the perennial best-selling book The Elf on the Shelf: A Christmas Tradition. She is also the co-founder of the entertainment and consumer products company—The Lumistella Company—where she serves as a partial owner along with her twin daughters, Chanda A. Bell and Christa Pitts. Aebersold, a self-described "accidental entrepreneur," is an owner and partner in Big Canoe Entertainment, as well as an owner who serves as an executive producer of The Lumistella Company's subsidiary production company: Scout Elf Productions™. However, to most, Aebersold is nothing less than a direct line to Santa.
After a series of unfortunate events and a private battle with depression, Aebersold sat down with her daughter, Chanda A. Bell, to write a Christmas tale based on an elf from her own childhood as a distraction from the mundane and as a way to spread happiness and cheer. The charming Christmas tale led to business ownership in 2005 when Aebersold and her daughters took a leap of faith and started The Lumistella Company as a way to publish, distribute and market the title. Scraping together the collective pennies they had, and taking on credit card debt, the trio jumped in to business ownership and started touring the country, selling their books out of the back of their cars.
Thankfully, their magical story resonated with families, and in 13 years, more than 12 million Scout Elves have been adopted. Although publishers told the trio that the book was "destined for the damaged goods bin," it became a perennial best seller and now routinely makes an annual appearance on the best-seller lists of USA Today, Publishers Weekly and the Wall Street Journal.
Aebersold, a former music teacher and a musical theatre enthusiast, has also penned a tune or two in completing her own special mission for Santa Claus. In 2011, as an executive producer of An Elf's Story, an animated special that has aired to a combined viewing audience of over 24 million people, she co-wrote two original songs, "Each and Every Christmas" and "Extravaganzalorious!" Most recently, her skills were put to good use in the animated Christmas special Elf Pets: Santa's St. Bernards Save Christmas when she was asked to help write a playful Christmas carol, which turned out to be a mouthful, "Wishing You a Little Merry Joyful Upbeat Happy Jubilant Christmas Day!"
Aebersold has appeared on numerous television shows from The Today Show to The Rachael Ray Show and has been featured in Good Housekeeping and Parents magazine. She has been awarded the U.S. Small Business Administration's Small Business Person of the Year and has been recognized as a Top 100 Distinguished Alumna from the University of Tennessee, Knoxville (UTK), while also enjoying local acclaim as one of the Marietta Daily Journal's Cobb County Citizens of the Year.
She is a member of the UTK Alliance of Women Philanthropists and serves on the UTK Alumni Board of Directors. When Aebersold is not supporting Santa and his Scout Elves, she enjoys theatre, music, reading, writing and time with family (especially her grandchildren).